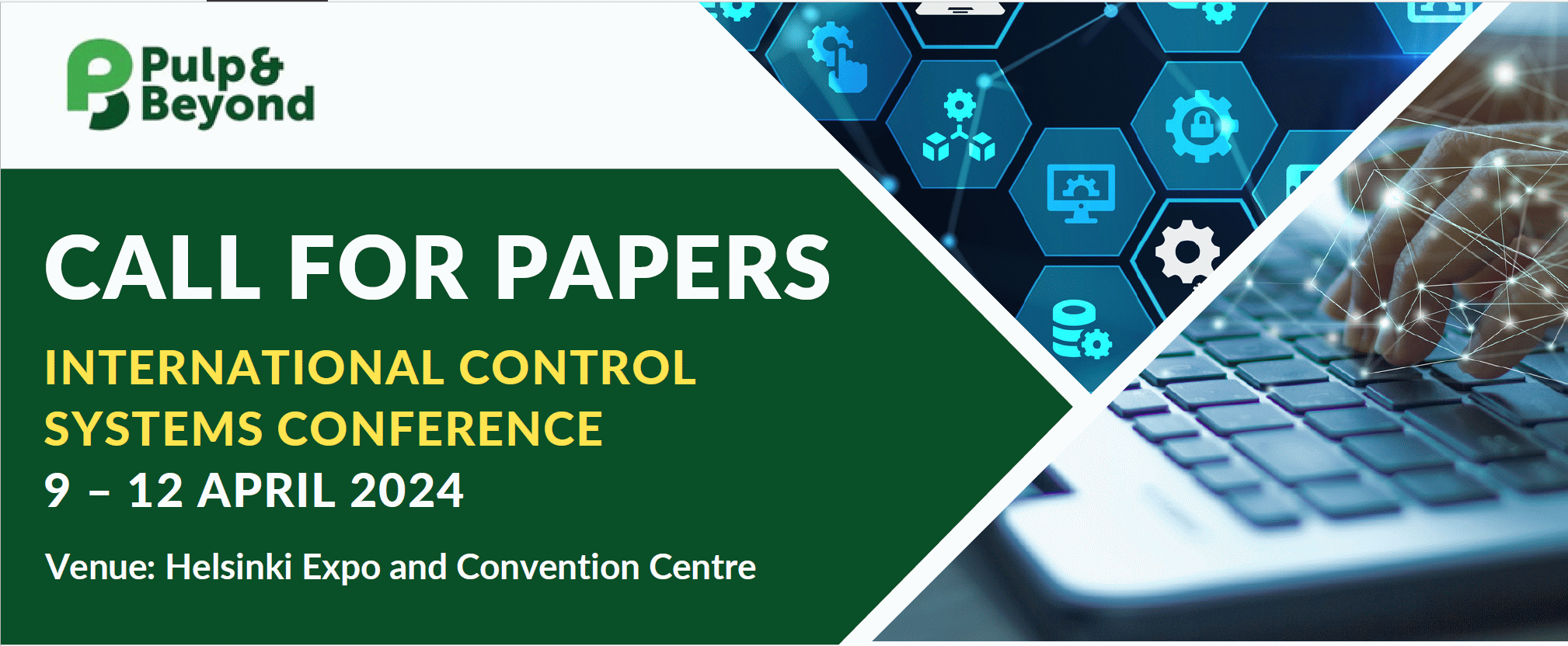 The International Control Systems conference is held every two years and is one of the leading conferences in the area of process measurement and control and systems engineering for the pulp and paper industry.

In 2024 the conference will be held concurrently with the Pulp & Beyond 2024 event at the Helsinki Expo and Convention Center in Helsinki, Finland.

The conference attracts presenters and attendees from all major pulp and paper producing countries, so this will be your best opportunity to network with experts from all around the world. (

Open this "Call for Papers" as an A4 size pdf file for download or printing here.

)
Suggested Topics:
Measurement and control of relevant industrial processes
Novel on-line sensors and sensing techniques
Methods and tools for improving energy efficiency
Process and control performance assessment
Operator decision support and augmentation systems
Production management and optimization
Applications related to wood yard systems and logistics
Process data analysis
Modelling and simulation
Measurement and control in biorefinery and bioenergyprocesses
Applications of soft sensors and multivariate statistics in processcontrol
Novel applications of AI in pulp and paper industry
Applications and use cases with fast ROI for new 5G localnetworks
Applications of 5G networks for millwide monitoring and control
New functions being facilitated by current and future local 5Gmill networks
Implementation of wireless sensors (IOT) in a mill environment (e.g. DCS/PLC connection, communication protocols,standards)
Mobility regarding control systems access i.e. control systems inyour pocket
We will consider technically sound papers on any topic related to pulp and paper control systems and related subjects that can potentially benefit pulp and paper producers, with a specific focus on experiences from real mill implementations.
Important dates:
Authors interested in presenting a paper at the conferenceshould submit an abstract by mail to

This email address is being protected from spambots. You need JavaScript enabled to view it.

by 15. October 2023
Notification of acceptance will be sent 15. November 2023
Full text manuscript or extended executive summary must be provided by 15. February 2024
The submitted abstract should briefly describe the objectives, results and conclusions on maximum 2 pages.
If you have anyquestions, please e-mail
This email address is being protected from spambots. You need JavaScript enabled to view it.
International Program Committee and hosting organization:
The final scientific content, invited lectures, panels, and sessions for the conference will be developed with the assistance of the International Program Committee consisting of professionals from Canada, Finland, Sweden, and USA among other countries.
The organizers include the leading technical associations within the North American and Nordic pulp and paper industries, namely TAPPI, PAPTAC, SPCI, PTF and PI.
The hosting organization of Control Systems Conference 2024 is Finnish Forest Products Engineers' Association (PI) with the venue of the Helsinki Expo and Convention Centre.
Control Systems event:
April 9th – Control Systems Conference and PI 110 Years Coctails / Welcome Reception
April 10th – Pulp & Beyond event and Conference Dinner
April 11th – Pulp & Beyond event and departure for excursions
April 12th – Excursions in Central Finland and return back to Helsinki
On behalf of the International Organizing Committee
Antti Lindqvist
Managing Director
Finnish Forest Products Engineers' Association